Parkinson's Initiatives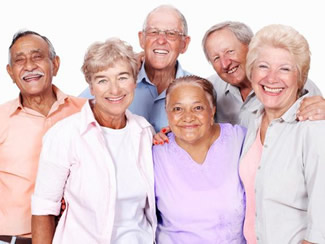 The Onondaga County Office for Aging proudly offers or supports the following Parkinson's Disease-related activities with our community.
"Finding Your Way with Parkinson's" Groups - Monthly meetings that offer support and education to patients and families dealing with this disease and other movement disorders.
Parkinson's Newsletters
August September and October 2017 Parkinsons Newsletter
July August and September 2017 Parkinsons Newsletter
Parkinson's Newsletter June, July 2017
Parkinson's Newsletter March, April, May 2017

Parkinson's Newsletter - February 2017
Annual Parkinson's Conference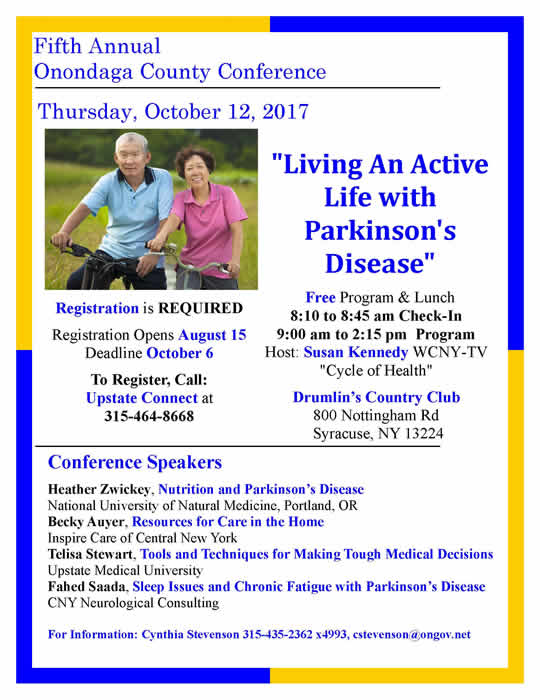 The "Living An Active Life with Parkinson's Disease" conference is a time for persons with Parkinson's Disease, or other movement disorders, and their care partners to come together to explore what this "active life" can be.  Education programs are presented by experts in the fields of medicine, nutrition, exercise, finance, law, pharmacology, research, self-care, and social services.  Resource organizations introduce themselves and provide information about programs and services in our community.  Guests share experiences and ideas with one another and make new friends while they socialize and enjoy lunch with others who are on a similar journey.  It is a time to rethink and recommit to maximizing the possibilities of an "active" life. This free conference is sponsored by the Onondaga County Office for Aging.
Save the Date!
5th Annual "Living An Active Life With Parkinson's Disease" conference
Thursday, October 12, 2017
8:30 am – 2:30 pm
Drumlin's Conference Center
Parkinsons Conference 2017 Flyer
2016 Parkinson's Conference Education Guide - For Reference
2015 Parkinson's Conference Education Guide - For Reference