---
Pay for Child Care, HEAP, Medicaid, Snap/Food Stamps, or Temporary Assistance
---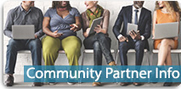 NOTE: OUR COMMUNITY PARTNER'S INFORMATION IS FOR PARTNERS OF DSS-ES & IS NOT DIRECTED FOR THE PUBLIC OR REGARDING INFORMATION ABOUT PUBLIC BENEFITS AND SERVICES.
THANK YOU
---
Commissioners Office
John H. Mulroy Civic Center
421 Montgomery St.
Syracuse NY, 13202
Hours:
Mon-Fri, 8am-4pm
Onondaga County Department of Social Services Economic Security is excited to announce a new pilot program for 2022. 2Gen Onondaga will work directly with parents under the age of 25 that are on temporary assistance.
What does two generation (2Gen) mean? Specifically, 2Gen stands for two-generations. Any service programs, working with children and families, using a 2Gen approach means that work is being done with and for multiple family members- for example for mom and the child(ren).
This pilot will provide intensive case management services that will follow the Aspen Institute's Five (5) Areas of Family Well-Being:
ASCEND at the Aspen Institute has been leading the way in research to find the most effective practices to address the needs of adults and children within their lives together. The research has found that to truly help families, a two-generational approach must be used.
2Gen Onondaga will center on families. The team will work to integrate services, remove barriers for families, provide coaching, partner with community agencies, commit to racial equity and will measure outcomes. In following all these practices, we believe that we will help these 2Gen Onondaga families achieve economic mobility and finally break out of poverty.