John H. Mulroy Civic Center, 12th Floor
421 Montgomery Street, Syracuse, NY 13202
Phone (315) 435-6600
The Bureau of Environmental Health Assessment provides public health services in programs that respond to concerns dealing with the indoor and outdoor environment.

Adolescent Tobacco Use Prevention Act
The Adolescent Tobacco Use Prevention Program provides:
• Tobacco retailer compliance checks to ensure that they are not
selling to minors
• Enforcement of the self-service display ban (includes vending machines)

Environmental Exposure Response
• Toxic and hazardous substance site surveillance
• Hazardous spill response
• Environmental radiation investigations

Healthy Neighborhoods
A door-to-door outreach program in predetermined census tracts within the City of Syracuse. This program generates referrals to collaborating agencies regarding lead poisoning prevention, asthma, carbon monoxide poisoning and fire safety.

Incinerator Monitoring
• Sampling of soils at sites associated with the Waste to Energy Facility
• Testing of soils and ash for metals and organics
• Review of stack testing reports and compliance reports

Indoor Air
• Indoor air complaint investigations
• Mold, asbestos, odors, general indoor air quality

New York State Clean Indoor Air Act
• New York State Clean Indoor Air Act enforcement (smoking in public buildings and work places)
• Smoking in restaurants and bars is regulated by the Food Protection program

Radon
Radon is an invisible radioactive gas that seeps into your home from under the ground. Radon causes lung cancer. The only way to tell if you have radon is to test your home. The Onondaga County Health Department has limited number of free radon test kits available. Call 435-6613 to order your kit.
If your home does have high radon levels, the problem can be fixed easily. The Onondaga County Health Department can provide a list of State certified radon mitigation contractors.
For more information about radon, call 435-6613 or visit:
New York State Department of Health or
U.S. Environmental Protection Agency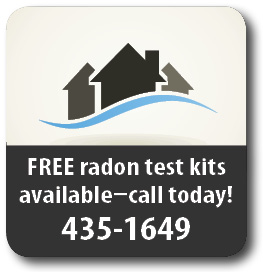 The only way to know if you have radon
is to test your home. A limited number
of FREE radon test kits are available.
Call 435-1649
to order your kit today!