Room 80 (Basement level), John H. Mulroy Civic Center
421 Montgomery Street, Syracuse, NY 13202
Phone (315) 435-3236

*PLEASE NOTE: The STD Clinic will not be seeing patients
on Friday, June 24, 2016.
Get peace of mind. Get checked.
Even if you don't have symptoms, you could have a sexually transmitted disease (STD). So get an STD check up. There are many options for STD testing. Some people choose to go to their doctor while others prefer to go to the STD Center.
The STD Center provides FREE and confidential STD testing and treatment. You do not need your parent's permission to be seen or treated.
When you come to the STD Center, here's what to expect:

Appointments are not needed but may be limited,

so it's best to come early to make sure you will be seen.


Paperwork is quick and easy.

You will be called by a number throughout your visit to ensure your confidentiality.


Exams are fast

and if you test positive for an STD, you may receive medication before you leave. Other test results may take up to a week. The STD Center tests for syphilis, chlamydia, gonorrhea, HIV, and other diseases/infections.


Confidential HIV testing is available using a blood draw.

If needed, staff will provide assistance with partner notification, referral services, and patient counseling.


There are NO FEES

for testing or treatment.
STD Center Hours (no appointment needed, but may be limited):

Mondays: 8:30–11:00am, 12:30–3:30 pm

Tuesdays: 12:30-4:30 pm

Wednesdays: Closed (HIV rapid testing only, 10:00 am - 3:00 pm)

Thursdays: 12:30-3:30 pm

Friday: 8:30–11:00 am
*PLEASE NOTE: The STD Clinic will not be seeing patients
on Friday, June 24, 2016.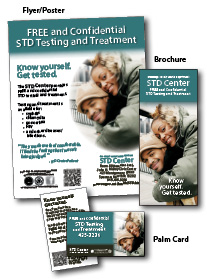 Click to download materials (pdf):