Whooping Cough (pertussis) is an infection of the respiratory system caused by the bacterium Bordetella pertussis. It is characterized by severe coughing spells that end in a "whooping" sound when the person breathes in. In Onondaga County there has been an increase in Whooping Cough cases, with a total of 126 cases in 2010. Increases like this typically happen every 3 to 5 years. For more information and prevention tips about Whooping Cough, download the flyers below or visit www.cdc.gov/Features/Pertussis.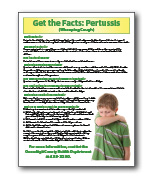 Click to download
"Get the Facts: Pertussis" fact sheet (pdf)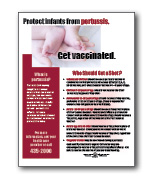 Click to download
"Protect Infants from Pertussis"
fact sheet (pdf)