Onondaga County Discount Prescription Program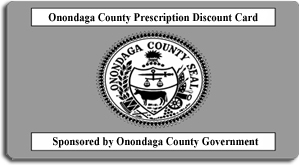 Discount Prescription Card Program:

This program has been developed by County Executive Mahoney and the County Legislature to help lower the prescription drug cost for County residents.

This program is free of charge to all Onondaga County residents through a partnership with ProAct, Inc., a Pharmacy Benefit Management Company.

Discount cards are available at participating pharmacies, and online at: ProActRxDiscountCard.