Higher Education

Onondaga County is a center for higher learning, with 32,000 students currently attending colleges within the County. The Central New York region houses the third largest concentration of colleges and universities in the nation.
Syracuse University is one of the nation's most highly regarded private colleges, offering a diverse portfolio of undergraduate and graduate degrees to its 18,200 students. Syracuse University's Maxwell School of Citizenship and Public Affairs and Newhouse School of Communications are consistently ranked as the country's best schools of public administration and journalism, respectively.

Also located within Onondaga County are LeMoyne College, a Jesuit-run liberal arts college; the State University of New York's Upstate Medical University, the largest medical school in upstate New York; and the SUNY College of Environmental Science and Forestry. In addition, more than 6,500 students attend Onondaga Community College, a two-year college that is part of the State University of New York system.

Over 80% of Onondaga County's high school graduates go on to attend post-secondary educational institutions.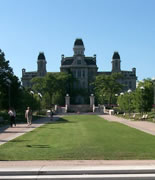 Syracuse University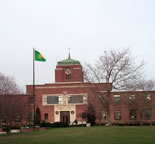 Lemoyne College
Onondaga Community
College