Welcome to the Office of the
Onondaga County Comptroller

Martin D. Masterpole

September is National Child Awareness Month
Join me with supporting the charities and nonprofits that play a vital role investing in our children to prepare them for success in school and life.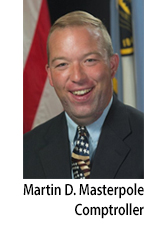 Onondaga County Comptroller
14th Fl, John H. Mulroy Civic Center
421 Montgomery Street
Syracuse, NY 13202
315-435-2130 (voice)
315-435-2250 (fax)
Department Mission

Under the leadership of the County Comptroller, an independently elected official, the Department of Audit and Control serves in an oversight capacity to ensure fiscal integrity and accountability.

The department is dedicated to the overall mission of County government and assist in this capacity by monitoring financial transactions, timely reporting the results of operations in accordance with generally accepted accounting principles, and advising County departments and agencies on discharging their responsibilities in a manner deserving of the public trust.

The County Comptroller Office is committed to fiscal responsibility and works closely with County administration to achieve structural budgetary balance and develop appropriate internal controls to protect the County's assets.