Welcome to the Office of the
Onondaga County Comptroller
Martin D. Masterpole
***During this difficult time with the Coronavirus (COVID-19), I encourage everyone to continue with the policies and procedures put in place by our County and State government including but not limited to social distancing. I fully support the efforts of NY State Governor Andrew Cuomo and Onondaga County Executive Ryan McMahon to help slow the spread of Coronavirus. We all share in the concern and uncertainty this unprecedented pandemic has over our lives and daily routines. I would like to thank my staff for working remotely and ensuring payroll continues to operate efficiently and effectively for our employees. While payroll covers County employees, our office also provides payments to the service providers who continue to support and guide those less fortunate throughout Onondaga County.
One of the most important duties of the County Comptroller is to issue the Comprehensive Annual Final Report (CAFR). Due to the hard work of my staff working remotely, the CAFR is on schedule to be released without delay.
Please stay safe and we will get through this together.***


Department Mission

Under the leadership of the County Comptroller, an independently elected official, the Department of Audit and Control serves in an oversight capacity to ensure fiscal integrity and accountability.

The department is dedicated to the overall mission of County government and assist in this capacity by monitoring financial transactions, timely reporting the results of operations in accordance with generally accepted accounting principles, and advising County departments and agencies on discharging their responsibilities in a manner deserving of the public trust.

The County Comptroller Office is committed to fiscal responsibility and works closely with County administration to achieve structural budgetary balance and develop appropriate internal controls to protect the County's assets.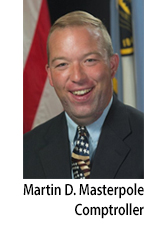 Onondaga County Comptroller
14th Fl, John H. Mulroy Civic Center
421 Montgomery Street
Syracuse, NY 13202
315-435-2130 (voice)
315-435-2250 (fax)