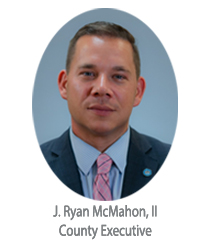 County Executive J. Ryan McMahon, II is the 4th County Executive. He assumed office on November 2nd, 2018.
Ryan is a graduate of Bishop Ludden High School and LeMoyne College. He grew up in the Strathmore neighborhood in Syracuse and currently resides in the Winkworth neighborhood with his wife and three children.
Ryan started his career in public service as a Syracuse City Councilor in 2005 after being elected at the age of 25. He was reelected in 2007 for a second term and quickly earned a reputation as a bi-partisan problem solver.
In 2011, County Executive McMahon was elected to the 15th District of the Onondaga County Legislature which includes portions of the City of Syracuse, the town of Geddes and the town of Onondaga. Ryan was subsequently elected Chairman of the County Legislature in 2012 by his fellow legislators becoming the youngest Chairman in County history. As Chairman, his primary focus was job creation and ensuring good fiscal discipline in the county. Under his leadership, property taxes were brought down to historic lows.
Upon taking office as County Executive, Ryan McMahon has placed a focus on three main initiatives: poverty, infrastructure and economic development.