Preparing for and responding to emergencies or disasters involves many disciplines and functions.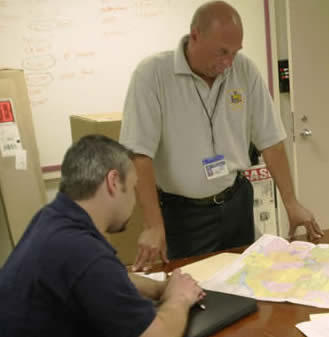 In Onondaga County, the Department of Emergency Management is designated to coordinate all emergency managementactivities: mitigation, preparedness, response and recovery. This multi-agency coordination enables the County to better protectlife and property during disasters and emergencies.
In 2003, the County Legislature recognized the importance of emergency management by combining the Division of Emergency Management, the Fire Coordinator's Office, and the EMS Bureau under one Department. 
To achieve robust preparedness and response capability, the Department of Emergency Management works collaboratively with many agencies and organizations.
emergency response agencies (EMS, fire, law enforcement)
human service agencies
public health and hospitals
utilities and communications
public works and transportation groups
the military
large corporations
local jurisdictions: City of Syracuse, 19 Towns, and 15 Villages 
In addition to continually developing and updating emergency plans, the Department coordinates training for volunteer fire service agencies and EMS providers. Through a variety of multi-disciplinary committees and task forces, the Department of Emergency Management participates in a continual process of planning, training and exercising.