Planning Director: Dan Kwasnowski, AICP
Deputy Planning Director: Don Jordan Jr.
Assistant Director for County Planning: Megan Costa
Assistant Director for City Planning: Owen Kerney
Assistant Director for City Zoning Administration: Heather Lamendola
Mission
The Syracuse-Onondaga County Planning Agency (SOCPA) provides a variety of planning services for Onondaga County and the City of Syracuse. Our mission is to provide and promote effective planning by Onondaga County, the City of Syracuse, and the 19 towns and 15 villages in Onondaga County. We adhere to planning best practices in the areas of public participation and citizen engagement, taking a bottom up approach, in order to ensure an equitable and effective planning environment to develop policies that resonate with individuals and local communities.
Inter-municipal Agency
Our agency is unique in that we provide staff and services to both the City of Syracuse and Onondaga County through a continuing Inter-municipal Agreement. This relationship dates back to 1967 when the Syracuse Office of Zoning Administration was originally staffed with Onondaga County employees. In 2013 the city's Planning Services staff also became part of SOCPA. SOCPA continues to progress the concept of an inter-municipal planning agency with further refinements and improvements in progress.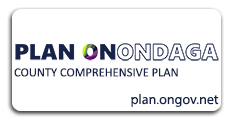 Planning
The goal of planning is to create great communities for all. Our mission is aligned with the initiatives of the County Executive to address issues surrounding Poverty, Infrastructure and Economic Development. We do this through work at all levels of government and society to provide leadership, technical assistance and public engagement to allow municipalities, businesses, individuals, and neighborhoods to be the best they can be in a safe, healthy, and inspiring environment.
Planning does this in practice by providing a long-range, comprehensive perspective to inspire the creation of a human environment that functions for the benefit of all people by utilizing and maintaining effective infrastructure, providing for natural resource stewardship, and promoting economic growth and vitality.
SOCPA is required to develop and maintain a comprehensive plan for the county and the city. Currently we are in the process of developing a countywide plan and actively implementing the city's comprehensive plan through a variety of planning initiatives, most notably the ReZone Syracuse project which will replace the city's zoning ordinance with a virtually complete rewrite of the zoning code and new map.
SOCPA also administers current programs and planning efforts in service to the overall goals. These include administering the city's zoning ordinance and the Onondaga County Planning Board's GML 239 referral process, working with county and city departments as well as other planning agencies to implement planning objectives, writing grants consistent with planning objectives, and providing direct planning support to local municipalities.
GIS and Addressing
SOCPA also includes a talented Geographic Information System (GIS) division that creates, maintains, and provides analysis of geographic data. Through our GIS division we create mapping products for a variety of government customers. Our most visible products are used by thousands of government agencies, businesses, and individuals on a daily basis through our online GIS mapping portal.
SOCPA is also responsible for approval of street names and assigning address numbers in Onondaga County. The 911 Address Administration program also provides services to the county's Department of Emergency Communications (911).
What We Do
SOCPA carries out a wide variety of services to support our mission as a planning agency and utilize our areas of expertise in administering programs.
SOCPA is responsible for the development of Onondaga County's comprehensive land use plan. Last adopted in 1998, SOCPA is actively working to update the county's comprehensive plan.
SOCPA promotes inter-municipal coordination of development through the Onondaga County Planning Board (OCPB) and the GML 239 review process. SOCPA occasionally assists local development coordination with local, county, and state agencies through the Coordinated Review process.
SOCPA's Syracuse Office of Zoning Administration provides staff to the Syracuse City Planning Commission, Board of Zoning Appeals, and Common Council on all zoning matters.
SOCPA's City Planning Division develops and implements the City of Syracuse Comprehensive Plan and oversees a variety of projects including: waterfront revitalization, energy initiatives, parks improvement projects, brownfield planning and development, environmental remediation, public art, and neighborhood planning. The City Planning Division also provides staff to the Syracuse Landmark Preservation Board.
The Geographic Information System (GIS) division provides spatial data and mapping support for planning efforts, county departments and initiatives, municipalities, and the public.
The 911 Address Administration program provides support for the Department of Emergency Communications (911) and is responsible for approving street names and assigning address numbers in Onondaga County.
SOCPA is responsible for preparing a Multi-Jurisdictional Hazard Mitigation Plan for Onondaga County, last adopted in 2019.
SOCPA provides training and planning information for municipal planning and zoning boards, professional planners, other professionals, elected officials, and the public through the Onondaga County Planning Federation (OCPF) and their annual conference.
SOCPA coordinates farmland protection planning, including assisting the Agriculture and Farmland Protection Board in administration of the Agricultural Districts and Agriculture Conservation Easement programs. The SOCPA Director sits on the County Legislature's Agriculture & Farmland Protection Board, and SOCPA oversees the professional development of the Agricultural and Farmland Protection Plan for Onondaga County.
SOCPA provides staff support and serves on the Onondaga County Agriculture Council, which works to support the agricultural community through education, promotion and advocacy programs.
The Syracuse Metropolitan Transportation Council (SMTC) is responsible for multi-agency transportation planning and funding coordination for Onondaga County. The SOCPA Director and staff participate on the SMTC Planning, Policy, and Capital Improvement committees, and represent the county on the Executive Committee. Staff also request studies on behalf of the 35 municipalities in the county and participate on study and advisory committees.
The Central New York Regional Planning and Development Board (CNY RPDB) conducts regional planning studies and administers a variety of planning and economic development related initiatives in Central New York. The SOCPA Director is appointed to this board and SOCPA and CNY RPDB collaborate on various planning initiatives.
SOCPA collects, analyzes, and distributes land use and demographic data, including US Census data, as a NYS Data Center Affiliate.   
SOCPA assists Onondaga County Community Development and local communities with updating Community Development Block Grant data and information to best represent our communities and bring them financial resources.
SOCPA provides technical assistance to county and city departments, community agencies, and to the towns and villages in Onondaga County.
Feel free to contact us if you would like more information on SOCPA or any of our programs.