Spring Webinars
The Onondaga County Planning Federation invites you to attend two spring 2021 webinars in partnership with the NYS Department of State (DOS). Both courses are free and will be taught by staff of the DOS Local Government Training program.
Solar Energy Regulation
Thursday, April 8 at 11:00 AM - 1:15 PM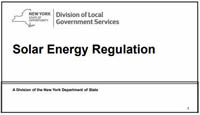 This course addresses the authority of local governments to regulate photovoltaic solar energy systems—from modest residential and agricultural systems to large-scale institutional and commercial solar arrays and sun farms. Environmental and economic benefits and aesthetic challenges are discussed, and tools such as the New York State Unified Solar Permit are provided to allow solar arrays and regulate their impacts.
Affordable Housing
Thursday, April 22 at 11:00 AM - 1:15 PM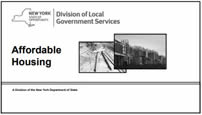 Affordable housing is a topic shrouded in misconceptions and strong biases. One thing is certain: it cannot be ignored. Public interest and case law require municipalities to address the affordable housing needs of their regions. This course examines the history and evolution of laws, policies and programs pertaining to affordable housing. Exclusionary zoning case law is highlighted, as well as the benefits of using land use tools such as inclusionary zoning regulations and accessory apartments to provide affordable housing. Strategies to preserve existing affordable housing, the process of developing affordable housing, and affordable housing design are also discussed.
*These webinars may be used to obtain the four hours of annual training required by NYS for planning and zoning board members, if approved by the municipality. For more information, please see Annual Training for Planning and Zoning Board of Appeals Members at the Department of State's website: https://www.dos.ny.gov/lg/lut/mandatory_training.html


The Onondaga County Planning Federation (OCPF) is a nonprofit corporation that serves every municipality in Onondaga County by hosting annual training conferences for elected and appointed local officials and the public, and providing trend data and planning information to Federation members. The Syracuse-Onondaga County Planning Agency (SOCPA) provides staff services to the Onondaga County Planning Federation.
OCPF Goals
Promoting community and inter-community planning within or by the municipalities of Onondaga County.
Educating members of the Federation and the public.
Providing for the collection and distribution of information and resources on planning and related subjects.
Promoting cooperation and coordination with and among federal, state, county and local authorities in matters relating thereto.
Board of Directors
Kevin Gilligan, President
Municipal Attorney
Senior Counsel, Costello, Cooney & Fearon, PLLC
David Tessier, Vice President
Zoning Board of Appeals Chair, Town of Pompey
Land Planning Consultant
Vince Bongio, Secretary/Treasurer
Planning Board Member, Town of Geddes
Chief Engineer US Operations, Daldrop-SBB, LLC
Howard Brodsky
Community Planning Consultant
Ilana Cantrell

Planner, Syracuse-Onondaga County Planning Agency
Christine Capella Peters
Planning Commission Member, City of Syracuse
Kathleen Carroll
Planning & Zoning Boards Member, Town of Marcellus
Controller, Greek Peak Mountain Resort
Ron DeTota

Town and Planning Board Engineer for the Town of Clay
Municipal Services Department Manager, C&S Companies
John Elleman

Zoning Board of Appeals Chair, Town of Onondaga
Member, Bond, Schoeneck & King PLLC
John Fatcheric

Planning Board Chair, Town of Camillus
Anthony Geiss Jr.
Zoning/Planning Board Chair, Town of Van Buren
John Langey
Municipal Attorney
Partner, Costello, Cooney & Fearon, PLLC
Jane Rice
Planning Board Chair, Village of Fayetteville
Director of Planning, EDR Companies
Jamie Sutphen

Municipal Attorney
Partner, Baldwin, Sutphen & Frateschi, PLLC
Alex Wisniewski
Village Engineer, Village of Minoa
President, L.J.R. Engineering, P.C.
As of January 1, 2007, New York State law requires a minimum training standard of four hours each year for members of county, city, town and village planning and zoning boards. The type of acceptable training is left to the discretion of individual municipalities. The legislative body for each city, county, town or village approves a course or courses of training for its board members.
The Federation offers annual Municipal Training Conferences to assist municipalities in meeting these minimum training standards.
Click here if you would like to receive notices for future Annual Planning Symposiums.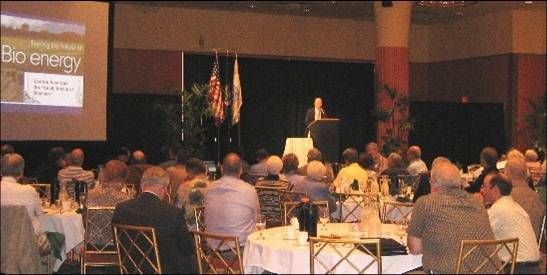 Neil Murphy, Ph.D., President, SUNY ESF
Annual Planning Symposium Keynote Speaker