Lead Poisoning Prevention Data
Protecting children from lead is important for their lifelong good health. Even low levels of blood lead have been shown to affect children's physical and cognitive development. Fortunately, lead poisoning is entirely preventable.
New York State requires doctors to test all children for lead poisoning at ages 1 and 2. Only a blood test can tell how much lead is in a child's body. The Centers for Disease Control and Prevention determines what follow-up is needed for a child based on the amount of lead found in a child's blood.
In addition to testing at age 1 and 2, the child's health care provider must complete a lead risk assessment at each well-child visit from birth to age 6 years old and may order additional testing based on the results of that assessment. New York State also requires that all newly arrived refugee children between the ages of 6 months and 16 years be tested upon arrival and 3-6 months after they arrive.
Results shared on this page represent only children tested for lead. Additional information on our programs and services may be found in the Onondaga County Health Department Annual Report and elsewhere on the program's website.
Testing Data
The graphs below shown the number of children tested for lead each year. Some children may have had more than one lead test in a year. In this situation, the highest result collected by venipuncture (blood drawn from the vein) is included in the analysis. If no venipuncture was performed, the highest finger stick result is included. While testing numbers may vary from year to year, Onondaga County consistently performs better than Central New York and New York State as a whole with respect to the percent of children who are screened for lead at the appropriate intervals. More information can be found on the New York State Department of Health website.
Percent of Tested Children with Elevated Blood Lead Levels, Onondaga County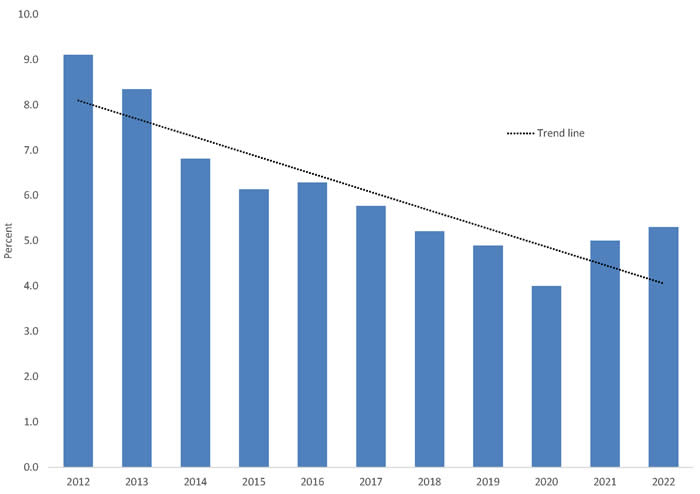 Percent of Tested Children with Elevated Blood Lead Levels, Syracuse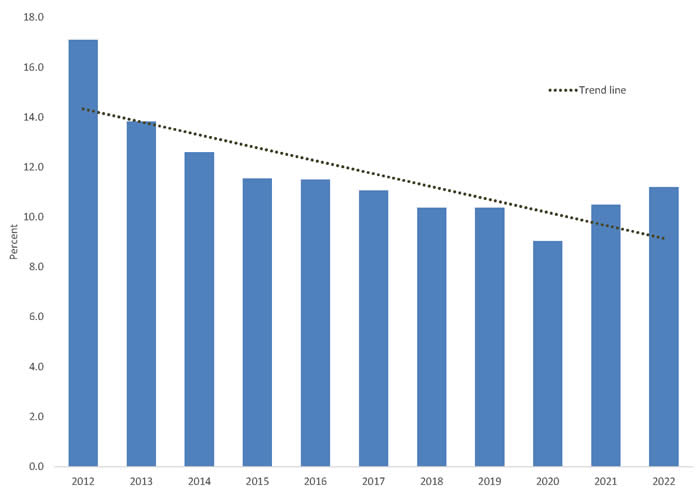 To better understand the impact of lead exposure in the community, the table below shows a breakdown of children identified with elevated blood lead levels (EBLL) by race and zip code. This indicator shows the percent of children with EBLL in each race category, out of the number of children tested in that race category. For example, in zip code 13202, 4.9% of Black/African American children tested for lead had an EBLL.
Historical Data
Percent Elevated Blood Lead Levels by Race, out of Tested Children: 2020 | 2021
Data Maps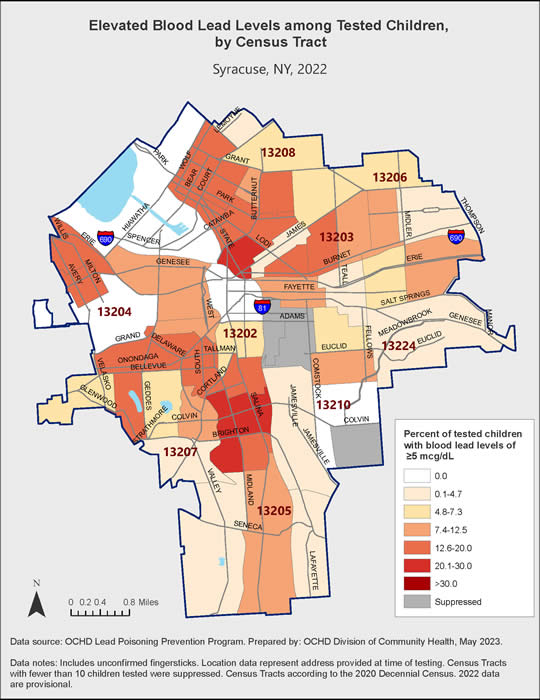 Data Maps:
2022 | 2021 | 2020 | 2019 | 2018 | 2017 | 2016 | 2015 | 2014 | 2013
Multiple Years: 2013 to 2022
Data Sets (Excel):
• Elevated Blood Lead Levels Among Tested Children by Census Tract, Syracuse, NY, 2013-2019
• Elevated Blood Lead Levels Among Tested Children by Census Tract, Onondaga County, 2020-2022
Data Policy:
The Onondaga County Health Department adheres to the NYSDOH policy statement as it relates to the use of these data.
Additional Data Sources:
To access publicly available searchable housing data for the City of Syracuse, please visit: data.syrgov.net

Onondaga County Health Dept
Lead Poisoning Prevention Program
John H. Mulroy Civic Center
421 Montgomery St., 9th Floor
Syracuse, NY 13202
Phone: 315.435.3271
Fax: 315.435.3720
Email: LeadFreeKids@ongov.net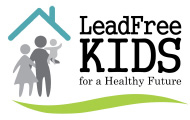 ---
Onondaga County Health Department is nationally accredited and meets rigorous public health standards necessary to best serve the needs of our community.