More topics for Treatment plants

Wetzel Road

Permits, Reports, & Fact Sheets
- Effective beginning, September 17, 2012 and expires on, August 31, 2017. On January 11, 2017, the NYSDEC issued a letter to the County indicating the current permit will remain in effect after the expiration date under the provisions of the State Administrative Procedure Act (SAPA).
WETZEL ROAD WASTEWATER TREATMENT PLANT (WWTP)
The Wetzel Road WWTP has a design flow of 7.0 MGD and provides advanced secondary treatment of wastewater using a Biological Aerated Filter (BAF) System and tertiary treatment with Cloth Media Disk Filters (CMDF). Wastewater is collected throughout portions of the Towns of Salina and Clay via a series of gravity sewers and small pump stations. These sewers combine into three (3) main gravity trunk sewers and the 18" Sawmill Pump Station force main. These four (4) sanitary lines eventually combine at Special Manhole #3, located East of the Headworks Building, approximately 100 yards upstream. The wastewater influent is primarily from residential sources, with some commercial use discharges and four (4) permitted industries contributing to the flow. This facility received significant rehabilitation and upgrades with the BAF system becoming operational in 2008, and the remainder of the upgrades having been completed in 2010.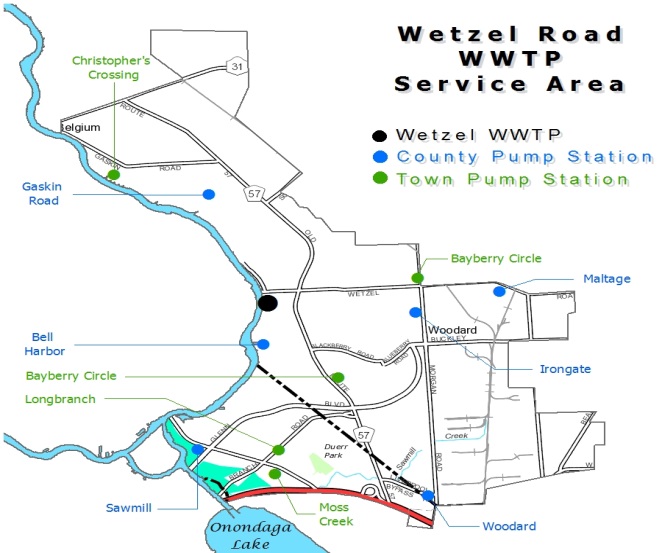 FACT SHEET: Wetzel Road Wastewater Treatment Plant
The wastewater undergoes screening and grit removal in the Headworks Building, utilizing a mechanical screen rake, followed by grit removal in two covered aerated grit chambers, which use a mechanical clamshell removal system. Wastewater flows through the aerated grit channels into a wet well where it is pumped via four (4) submersible pumps to the primary clarifier structures. Three (3) primary clarifiers provide for settling of solids and skimming of floating scum and grease. Primary effluent then flows via gravity through the Fine Screens Building where it passes through two (2) automatic climber screen rakes which remove finer debris. This wastewater gravity flows to the Intermediate Pumping Station where submersible pumps lift the wastewater up to the influent channel of the BAF building. The BAF influent flows upwards through the media of the four (4) BAF "C" cells, where carbonaceous nutrients are broken-down through biological action. Effluent from the "C" cells flows into the "N" cells in the same manner, passing upwards through the media, where biological nitrification is accomplished. Periodic backwashes of each BAF cell are conducted to maintain the media, the backwash water gravity flows to the Backwash Holding Tank; from there it is pumped to the two (2) Gravity Thickener Tanks. Effluent from the BAF process gravity flows to the CMDF cells, which assist in removal of suspended solids. The CMDF effluent then passes through two (2) Trojan Ultraviolet (UV) light disinfection systems for seasonal disinfection of the final effluent, which then passes through a Post Aeration Tank for additional aeration prior to discharge through a Parshall flume and finally into the Seneca River. Phosphorus is removed year round with the addition of aluminum sulfate into the primary clarifier influent.
---
---
SPDES Permit compliance history can be found at: http://echo.epa.gov/