Flu and Pneumonia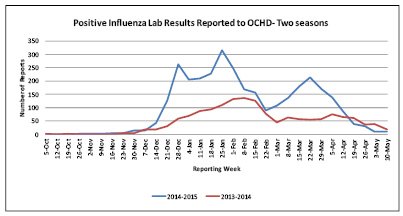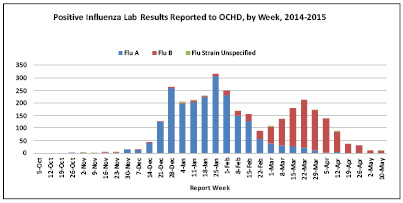 Click here for detailed data and charts
Key Facts About the Flu

What is the Flu (influenza)?
The flu is a serious and contagious respiratory illness
caused by the influenza viruses.

What are the Symptoms of Flu?
Symptoms of flu may include:

Fever or feeling feverish

Chills

Cough

Sore throat

Runny or stuffy nose

Muscle or body aches

Headache

Fatigue

Occasionally vomiting and diarrhea

How is the flu spread?
The flu is spread by droplets made when people with the flu cough, sneeze or talk. Droplets can land in the mouths or noses of people who are nearby. It can also spread by people touching surfaces that have flu virus on it and touching their eyes, nose or mouth.

Who is at highest risk of flu complications?

Children younger than 5, but especially children younger than 2 years old

People 50 years of age and older

Pregnant women

People of any age with certain chronic medical conditions

People who live in nursing homes and other long-term care facilities

How Can I Prevent the Flu?
The single best way to prevent the flu is to get a flu vaccine each season. Everyone over 6 months of age is recommended to get a flu vaccine each year. The flu vaccine is available in the traditional shot, and in nasal spray form (FluMist®). Flu shots are available for persons over 6 months of age. The flu nasal spray (FluMist®) is available for healthy persons 2 through 49 years of age. People should get vaccinated every year because immunity to influenza viruses decline over time and circulating strains often change from year to year.
In addition to getting the flu vaccine, take extra hygiene precautions to protect yourself and others from the flu:

Wash your hands often with warm water and soap

Cover your nose and mouth with a tissue or with your arm when you sneeze or cough

Avoid close contact with anyone who is sick

If you do get sick with the flu, say home and away from others for at least 24 hours after your fever is gone
Call your medical provider as soon as you feel ill, especially if you have medical conditions, so that you may be prescribed antiviral medications. Onondaga County Health Department maintains a stockpile of 100 Oseltamivir (Tamiflu) treatment courses. A full course of Oseltamivir is dispensed free of charge to any eligible patient until the supply is used up. Physicians are aware of the eligibility requirements and where the prescriptions are to be taken.
When should I get a Flu Vaccine?
You should get your flu shot as soon as it becomes available each year, however, there is benefit to getting the vaccine later as long as the flu is still circulating.

New Flu Vaccine Recommendations
for the 2014-2015 Flu Season
New this year, the CDC stated that FluMist® is preferred to injectable flu vaccine in healthy children 2 through 8 years because it offers better protection against the flu. However, do not delay vaccination for this age group if FluMist® is not immediately available.
Where can I get my flu shot?
Onondaga County Health Department offers a weekly flu clinic for the public. New day, time, and location! Starting Wednesday, January 7, 2015 the flu clinic will be on Wednesdays, 9:00 a.m. to 12:00 noon in room 30 (basement level) of the Civic Center. The clinic provides flu vaccine for Onondaga County residents 6 months of age and older, while supplies last. Please call 435-2000 for availability. This is a walk-in clinic, no appointments are necessary.
The fee for the flu vaccine is based on a sliding fee scale, family income, and family size. The cost for a flu vaccine will range from $0 - $30. Pneumonia shots will be $65. Cash, Check, Medicaid, and Medicaid managed care are all accepted. Nobody will be turned away from receiving a flu shot due to their inability to pay.
For more information about seasonal flu, please visit:
New Pneumococcal Vaccine Recommendations
The CDC recommends pneumococcal vaccine (also called the pneumonia shot) for all adults over 65, and for adults 18 – 64 with long term health problems, conditions or medications that lower the body's resistance to infection, and for those who smoke or have asthma.
New this year, adults over 65 years of age should now receive two different types of pneumococcal vaccine. Adults 65 years of age and older should routinely receive PCV13 (new vaccine) and PPSV23 (old "pneumonia shot") in series 6 to 12 months apart. Only PPSV23 will be available at our Immunization Clinic
held each Wednesday from 9:00 a.m. to 12:00 noon in room 30 (basement level) of the Civic Center.