Beat the Heat!
When the temperatures start to rise, beat the heat and take these steps to prevent heat-related illnesses, injuries, and deaths:
Drink plenty of fluids.

Wear loose, lightweight, light-colored clothing and sunscreen.

Schedule outdoor activities carefully.

Pace yourself.

Take cool showers or baths to cool down.

Check on a friend or neighbor and have someone do the same for you.

Do not leave children or pets in cars.

Stay in an air-conditioned indoor location. If your home is not air conditioned, visit public places such as libraries and malls. Stay tuned to local media for additional public cooling sites in the event of a heat advisory.
For more tips visit www.cdc.gov/extremeheat/
Beware of Algae Blooms
Algae blooms are more common during the summer months when temperatures rise and sunny conditions exist. Always stay away from blooms in surface waters. Never swim, fish, boat, wade or eat fish caught in areas with blooms. Bloom or no bloom, never drink, prepare food, cook, or make ice with untreated surface water. During a bloom, individual surface water supplies should not be used for showering, bathing, or washing dishes even if treatment is provided. Public water supplies that draw water from surface water are treated, disinfected and monitored. The public would be notified if public water supplies are impacted by algal blooms. 
Your family should always be prepared for any type of drinking water emergency. Creating an emergency water supply for you and your family is an essential part of overall emergency preparedness. How much is enough? Make sure you have 1 gallon of clean water per person per day for 3 days. Allow more water for those who are disabled, pregnant or if you have pets. 
Pool Safety for Children

Drownings are the leading cause of injury death for children ages 1 to 4. Thankfully, parents can play a key role in protecting their children. To keep your children safe, follow these safety tips.
Never leave your children alone in or near a pool or water, even for a moment.

Practice "touch supervision" with children younger than 5 years of age. This means that the adult is within an arm's length of the child at all times.

Keep rescue equipment and a telephone by the pool.

Do not use air-filled "swimming aids" as a substitute for approved life vests.

Remove all toys from the pool after use so children aren't tempted to reach for them.

After the children are done swimming, secure the pool so they can't get back into it.

Put up a fence to separate your house from the pool. Most young children who drown in pools wander out of the house and fall into the pool. Install a fence at least 4 feet high around all 4 sides of the pool. This fence will completely separate the pool from the house and play area of the yard. Use gates that self-close and self-latch, with latches higher than your children's reach.

Make sure everyone in your family learns to swim well.

Get certified in CPR.

Download and print this Water Watcher Card, and remember, active supervision is the best way to keep your kids safe!
August is Children's Eye Health and Safety Month, and eyes can be damaged by the sun's rays just like skin can be! Hats that shade the face, scalp, ears and neck are easy to use and offer great protection. Sunglasses protect the eyes from UV rays, which can lead to cataracts later in life. To ensure maximum protection, look for sunglasses that wrap around the side of the head and block as close to 100% of UVA and UVB rays as possible.
Be Safe in the Sun
Kids often get sunburned when they are outdoors unprotected on a sunny day, especially around midday, when the sun's rays are the strongest. Both burns and tans can indicate damage to the skin, so plan ahead, and keep sun protection handy in your car, bag, or child's backpack. For the best protection, choose a sunscreen with an SPF of at least 15 that protects against UVA and UVB rays. Apply generously 30 minutes before going outdoors. Be sure to protect the ears, nose, lips, and the tops of the feet! Reapply every 2 hours, or after swimming or sweating. For more information regarding sunscreen use and protection, visit www.cancer.org/healthy/besafeinthesun/index.
Safe Summer Food Handling

During the summer months, picnics, cookouts and barbecues are a way of life. Keeping food safe during the summer is simple and takes only a small amount of effort:
Wash hands with soap and water often, especially before and after preparing food, using the bathroom, changing diapers, and before eating.

Prepare poultry and meat separately from other foods. Wash your hands with soap and water and clean cutting boards after each use.

Keep cold foods cold and hot foods hot to help limit the growth of bacteria that can cause sickness. Use insulated coolers and ice to keep foods cold.

Always place raw meats separately from fresh, cooked, or prepared foods, especially in a cooler, or use a separate cooler for raw poultry or meats.

Cook eggs until firm and cook poultry, hamburgers, and other meats to an internal temperature of 165°F. Use of digital or metal stem thermometers makes it easy to know that foods reach the proper temperature. These thermometers are inexpensive and easy to use so there's no need to guess!

Never put cooked food on the same dish that was used to hold raw meat. Always use clean dishes when carrying cooked foods from the grill or stove/oven.

Throw out any hot or cold foods that have been left out at room temperature for two hours or more. Remember, when in doubt about a food – throw it out.

Seek medical attention if you have symptoms such as vomiting, cramps, or diarrhea.
For more information, visit:
Handling Food Safely While Eating Outdoors (FDA)
[Click image to enlarge]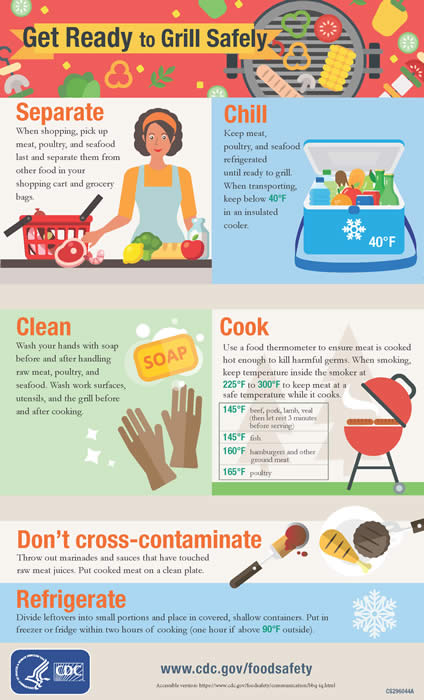 Fight the Bite!
Warm weather is here, and so are the mosquitoes. Mosquitoes are annoying and their bites can spread diseases like West Nile virus (WNV) and Eastern Equine Encephalitis (EEE). The majority of people do not get sick after being bitten by an infected mosquito. In some mild cases individuals can have fever and headache, but in rare cases the illness can be severe and even fatal.The mosquitoes that can transmit Zika virus have never been found in Onondaga County.
The best way to reduce your risk of mosquito bites is to avoid mosquitoes where they live and breed. Mosquitoes are most active in the early morning and in the early evening. Limit your outdoor activities during these times and use insect repellents safely. Eliminate mosquito breeding grounds around your home and protect yourself when outdoors during times when mosquitoes are most active. For more information call 315.435.1649 or visit our Mosquito-Borne Disease web page.
Keep Ticks Off!
Lyme disease (LD) is a serious infection that can result from a bite of an infected deer tick. It is important to avoid ticks. Keep ticks away by mowing your lawn often, removing brush from your home, keeping the ground under your birdfeeder clean, stacking wood neatly, and keeping playground toys away from trees. Try to stay out of wooded areas unless appropriately prepared. When outdoors, cover up and use insect repellent with DEET or Permethrin, and be sure to follow the product label instructions. Always do tick checks after being outside. Young ticks can be smaller than a pencil point, so check thoroughly and wash your clothing in hot water. Call your health care provider if a tick has been attached to your skin for more than 36 hours, or if you had a recent tick bite and develop any symptoms ("bull's-eye" rash, fever, fatigue, chills, headache, muscle and joint aches, and swollen lymph nodes). Onondaga County Health Department does not test ticks for disease. For more information visit our Lyme Disease web page.
Animal Bites
People are around animals more during the summer than at other times of the year which leads to more animal bites during this time. About 5 million cases of animal bites occur in the US every year. Most animal bites are from dogs (80-85%) followed by cats (10%), and other animals. It is important to seek medical care for all animal bites. How can you prevent rabies?
Be sure your dog, cat, or ferret is up to date with their rabies shots.
Report all animal bites to the police.
Never try to approach nor pet a wild or unfamiliar animal, including stray cats.
Do not bring a wild animal, such as a fox, raccoon, woodchuck, or skunk, etc. into your home or treat them as a pet.
Call the Health Department at 315.435.3165 if you come into contact with bats, or if bats are found in your home. If a bat is found in your home, capture it safely and call the Health Department for further guidance.
If you are bitten or exposed to the saliva of a wild or unfamiliar animal, first wash any wounds with soap and water and seek medical treatment if necessary. Next, call the Animal Disease Control Program at 315.435.3165 for guidance regarding concern for rabies.
Are your pet's shots up to date? Rabies shot clinics are held at various locations throughout Onondaga County and are free for Onondaga County residents. Please be sure to keep your pet on a leash or in a carrier during the rabies clinic and bring your pet's past shot records with you. New York State Public Health Law requires that all puppies and kittens get vaccinated at three months of age, and then get a booster shot one year later, and then every three years after that. Ferrets must get vaccinated every year. A voluntary donation per family is appreciated. See the complete list of our upcoming clinics.

Be Careful While Caring for Your Lawn!

It may be a routine summer task, but mowing your lawn can be dangerous. Most lawn mower-related injuries can be prevented by following these safety guidelines:
Be smart when you start. Did you know that dangerous levels of carbon monoxide can occur if you start or operate lawn mowers or gas powered weed trimmers inside your garage? Move it out into the open before starting.

Refuel when the engine is cool, never refill while the engine is hot.

Be sure children and pets are not in the yard when you're mowing.

Rocks or sticks can fly, so inspect your yard and remove them before mowing.

Protect your eyes with shatter resistant glasses and wear long pants and closed shoes.

Push – never pull – the lawn mower

Turn the mower off when it is left unattended or before clearing a clog.

If you plan to have your child/teen help with mowing, be sure to review these important guidelines from the American Academy of Pediatrics.
Is it Fix-Up Time at Your House?
Did you know if your home was built before 1978, it may contain hazardous lead paint and/or lead dust? Remodeling projects, home repairs, and normal wear and tear of painted surfaces like opening and closing windows and doors can create lead dust. You cannot see lead dust. Young children and pregnant women are especially at risk for exposure to lead paint and lead dust. Before you start planning your spring home repair and/or remodeling projects, consider the following questions:
Was your house built before 1978?
Will you be working on painted surfaces?
Have you had the paint tested to see if it is lead-based paint?
Are you planning on hiring someone? Are they EPA Lead Certified?
Do you know what safety precautions you or your repair crew should use to protect yourself and your children from hazardous lead paint/lead dust?
Do you qualify for a lead home repair grant?
Let's protect our children and treat our homes. Call today to get more information about:
Childhood lead testing
Free home lead inspections
Safely remodeling your home
Lead paint home repair programs
EPA Lead Safe Worker training requirements

For more information call the Onondaga County Lead Poisoning Prevention Program at 315.435.3271, visit our website, or email us at leadfreekids@ongov.net.

Don't Miss the Bus! Get Your Back to School Shots Now!
Be sure to review your child's shot record and talk to your health care provider to make sure your child's shots are up to date BEFORE school begins. Getting shots early can help prevent missed days of school once the year begins. Schedule your appointment today for any needed shots. If you do not have health insurance, the Onondaga County Health Department Immunization Clinic offers all shots needed for school entrance. We participate with NYS Fee for Service Medicaid and Medicaid Managed Care Programs (Total Care, Fidelis and United Health Care). For more information visit our Immunization Clinic page or call 315.435.2000.
As of June 13, 2019, non-medical immunization exemptions are no longer allowed for children in daycare or school in New York State. This includes public, private, and parochial schools and applies to children attending pre-kindergarten through 12th grade. Children who previously had a non-medical vaccine exemption will need to show proof of starting the vaccine series to remain in school or daycare. School-age children starting school in September will need to show proof of vaccination within 14 days of the first day of school. For more information on this change to public health law, call the NYS Immunization Program at 518-473-4437.For children in daycare or attending school over the summer, the deadline to show proof of starting the vaccine series was June 28, 2019.
Before You Dig…Are Your Shots Up to Date?
With the summer weather comes many activities that increase the risk of tetanus infection. Tetanus, also known as "lockjaw", is a serious disease that is caused by bacteria found in dust, soil, and manure. Tetanus bacteria can enter the body through any break in the skin, including a tiny pinprick, a scratch, a splinter, and even bug bites. The best way to protect yourself against tetanus is by getting vaccinated. Because the protection from the shot lessens with time, a booster shot is required every ten years. It is now recommended that in place of the standard tetanus booster (including tetanus and diptheria) adults receive one dose of Tdap (tetanus, diptheria and pertussis). If you are due for a tetanus booster shot, never got the shots as a child, or are not sure if you ever had a tetanus shot, contact your health care provider. Making sure you are protected before you dig can help protect you from tetanus infection. For more information on tetanus, call 315.435.2000 or click here for more information.