Senior Farmers Market Nutrition Program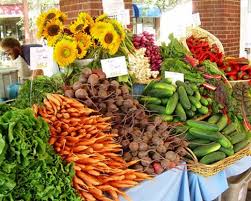 The locally grown fresh fruits and vegetables provided by this program offer many important health benefits to seniors while
also offering an economic stimulus. Farmers Market coupon booklets, redeemable for New York State grown fruits and vegetables, are distributed at community locations to eligible seniors. Onondaga County Farmers Markets, Farm Stands and the Farm Fresh Mobile Market participate with us in this federally funded program.
To be eligible you must be 60 years of age or older, and meet income guidelines (which change annually.)
Here is a List of Locations in Onondaga County that participate in the
Senior Farmers Market Nutrition Program:

Farmers Markets
Fayetteville Farmers Market CNY
Fayetteville Town Center
504 Burdick Street, Fayetteville
301-335-1434
ALL YEAR
Thursdays 12:00 Noon - 6:00 PM
Check the link below for More Information

Fayetteville Farmers Market CNY
Bayberry Plaza Farmers Market
Kinney Lot
7608 Oswego Road, Liverpool
315-652-1463
May 1 - October 30

Wednesdays 8:00 AM - 2:00 PM
Skaneateles Farmers Market
Austin Park Pavilion
1 East Austin Street, Skaneateles
315-727-9320
May - October

Thursdays 3:30 PM - 6:30 PM
Saturdays 10:00 AM - 1:00 PM
Syracuse/Central New York Regional Market
2100 Park Street, Syracuse
315-422-8647
ALL YEAR - Saturdays and Sundays 7:00 AM - 2:00 PM
May Through November: Thursdays 7:00 AM - 2:00 PM
SNAP Accepted
CNY Regional Market

Syracuse Downtown Farmers Market
Clinton Square, Downtown, Syracuse
315-422-8284
June 11 - October 8
Tuesdays 7:00 AM - 3:00 PM
SNAP Accepted

Syracuse Eastside Farmers Market
Westcott Community Center
826 Euclid Avenue, Syracuse
315-478-8634
June 19 - October 30
Wednesdays 2:00 PM - 6:00 PM
SNAP Accepted

Farm Stands
Emmi's Farm Market
1482 W. Genesee Road, Baldwinsville
315-635-7529
June 1 – October 20
Monday thru Saturday 10 AM – 6 PM
Sundays 10:00 AM – 3:00 PM
Emmi's Farm Market
1401 Buckley Road, Liverpool
315-635-7529
July 5 – September 4
Monday Through Saturday 10 AM – 6 PM
Sundays 10:00 AM – 3:00 PM
Gifford Street Farm Stand
610 Gifford Street, Syracuse
315-308-1372
May 4 – October 26
Saturdays 10:30 AM – 1:30 PM
Mobile Markets

Syracuse Farm Fresh Mobile Market
315-345-0600
ALL YEAR
Contact them for their daily location and hours
SNAP Accepted