Senior Farmers Market Nutrition Program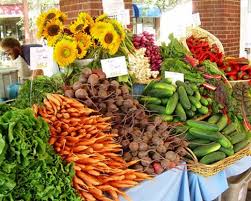 The locally grown fresh fruits and vegetables provided by this program offer many important health benefits to seniors while also offering an economic stimulus. Farmers Market coupon booklets, redeemable for New York State grown fruits and vegetables, are distributed at community locations to eligible seniors. Farmers Markets in our county and the Farm Fresh Mobile Market participate with us in this federally funded program.
To be eligible you must be 60 years of age or older, and meet income guidelines (which change annually.)
Coupons will be going out into the community the 2nd week of July.
Coupons will be distributed at the CNY Regional Market (2100 Park St. Syracuse) on Thursday 7/12/2018 starting at 8 am. The coupons will be distributed on a first come, first serve basis until they are gone. Eligible seniors can sign for them at the Welcome Center in the Market Office.
Coupons will also be distributed at some sites throughout the county including:
Anna's Pantry (Cicero) 315-699-6401
Canton Woods (Baldwinsville) 315-638-4536
Salina Civic Center (Mattydale) 315-454-0168
Skaneateles Ecumenical Food Pantry (Skaneateles) 315-685-5048
Dunbar Center (Syracuse) 315-760-3155
Eastwood Community Center (Syracuse) 315-437-4011
Huntington (Syracuse) 315-476-3157
Salvation Army (Syracuse) 315-479-1125
Westcott Community Center (Syracuse) 315-478-8634
If seniors would like to pick up booklets at any of these sites instead of the regional market they MUST CALL FIRST. Each center receives a different number of booklets and distributes them on different days; it is imperative that the seniors call the center of their choice to make sure coupons are still available and to find out when they can pick them up.
Eligible seniors will receive 1 booklet containing (5) $4 coupons ($20 total) to use at participating markets for the purchase of fresh, local produce only. Seniors can start using the coupons with participating farmers right away and must use them by 11/30/2018. To be eligible, seniors must be 60 years or older and be at or below 185% of the poverty level.
Here is a List of Farmers Markets in Onondaga County that participate in the
Senior Farmers Market Nutrition Program:
Fayetteville Farmers Market
Fayetteville Town Center
504 Burdick Street, Fayetteville
Check the link below for dates/times

Liverpool/Bayberry Plaza Farmers Market
Bayberry Plaza lot
Blackberry & Oswego Roads (Rt 57), Liverpool
315-437-1899 x222
Wednesdays 7:00 a.m. - 6:00 p.m.
Skaneateles Farmers Market
Austin Park Pavillion
1 East Austin Street, Skaneateles
315-685-6427
Thursdays 3:30 p.m. - 6:30 p.m.
Saturdays 10:00 a.m. - 1:00 p.m.
Syracuse/Central New York Regional Market
2100 Park Street, Hiawatha Road, Syracuse
315-422-8647
Saturdays/Sundays 7:00 a.m. - 2:00 p.m.
Thursdays 10:00 a.m. - 5:00 p.m.
CNY Regional Market

Syracuse Downtown Farmers Market
Clinton Square, Syracuse
315-422-8284
Tuesdays 7:00 a.m. - 3:00 p.m.
Syracuse Eastside Farmers Market
Westcott Community Center
826 Euclid Avenue , Syracuse
315-876-8872
Wednesdays 2:00 p.m. - 6:00 p.m.