October is Superfoods Month!
Have you ever heard about superfoods? It's a trending word, but not a new topic of discussion. Superfoods are foods that are high in nutrients, vitamins, minerals, and antioxidants that help protect and preserve your body function. There are many ways to add superfoods to your diet and make mealtime fun and enjoyable.
Take a look at our October Nutrition Education Brochure for more information!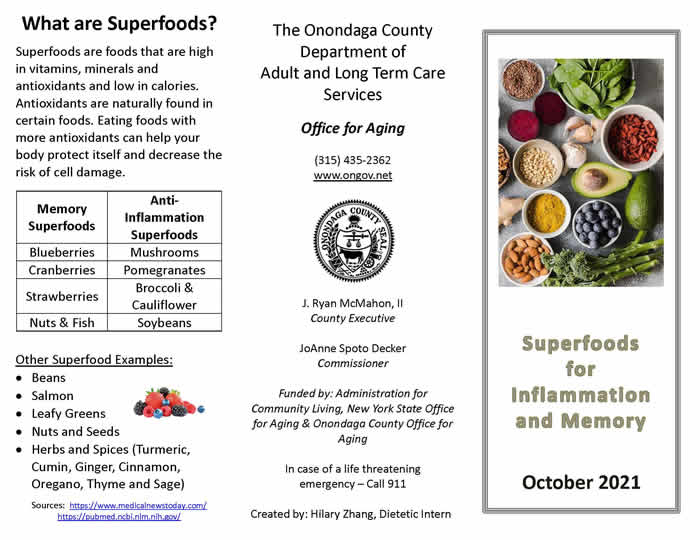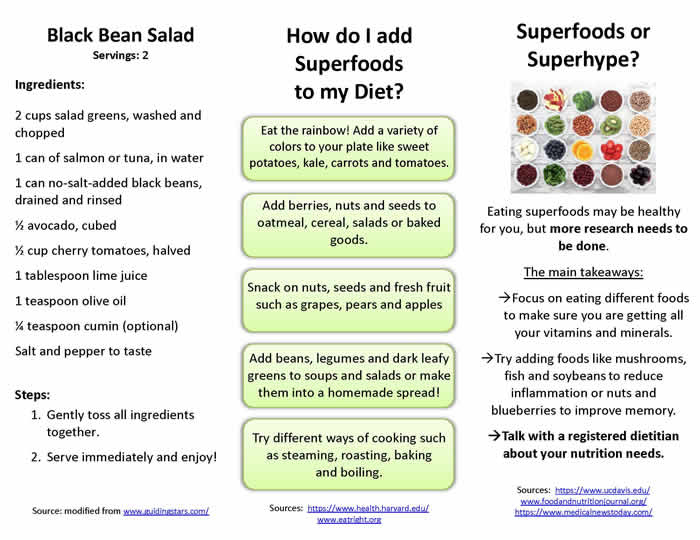 For more information on Nutrition Education Sessions or to arrange Nutrition Education Classes for your group, please call 315-435-2362 x4698.
One-on-One Counseling with a Registered Dietitian
One-on-One counseling with one of our Registered Dietitians is available at any congregate meal site, in the homes of our Home Delivered Meals participants or at the Onondaga County Office for Aging for all eligible participants at no cost to the participant. Counseling is provided in the home by appointment only, and includes the development of an individually written care plan, based on a physician's diet order, in addition to general nutrition education.
Eligible participants do have the opportunity to give a suggested contribution towards the cost of the service. Voluntary contributions provide additional funding to serve more seniors. No eligible participant is denied service due to inability or unwillingness to contribute towards the cost of the service and each client's contribution is voluntary and confidential. There is a suggested contribution of $5 for this service. For individuals earning more than 185% of the Federal Poverty Rate, the suggested contribution is $50.00 per counseling sessions (closer to actual cost of delivering this service). For 2021 the Federal Poverty Rate is $23,828 for a single family household, $32,227 for a two family household.
Nutrition Education
Planned programs that promote better nutrition, physical fitness, and health are scheduled at the various dining sites. Nutrition education material is also provided to all home delivered meals recipients.
For more information on nutrition education sessions or to arrange nutrition education classes for you group, call (315) 435-2362 x4698