One-on-One Counseling with a Registered Dietitian
One-on-One counseling with one of our Registered Dietitians is available at any congregate meal site, in the homes of our Home Delivered Meals participants or at the Onondaga County Office for Aging for all eligible participants at no cost to the participant. Counseling is provided in the home by appointment only, and includes the development of an individually written care plan, based on a physician's diet order, in addition to general nutrition education.
Eligible participants do have the opportunity to give a suggested contribution towards the cost of the service. Voluntary contributions provide additional funding to serve more seniors. No eligible participant is denied service due to inability or unwillingness to contribute towards the cost of the service and each client's contribution is voluntary and confidential. There is a suggested contribution of $15 for this service. For individuals earning more than 185% of the Federal Poverty Rate, the suggested contribution is $50.00 per counseling sessions (closer to actual cost of delivering this service). For 2017 the Federal Poverty Rate is $22,311 for a single family household, $30,044 for a two family household.
Nutrition Education
Planned programs that promote better nutrition, physical fitness, and health are scheduled at the various dining sites. Nutrition education material is also provided to all home delivered meals recipients.
For more information on nutrition education sessions or to arrange nutrition education classes for you group, call (315) 435-2362 x4698
Nutrition Education Event 2018
Registration is Open!

Sponsor/Exhibitor Information for 2018 Expo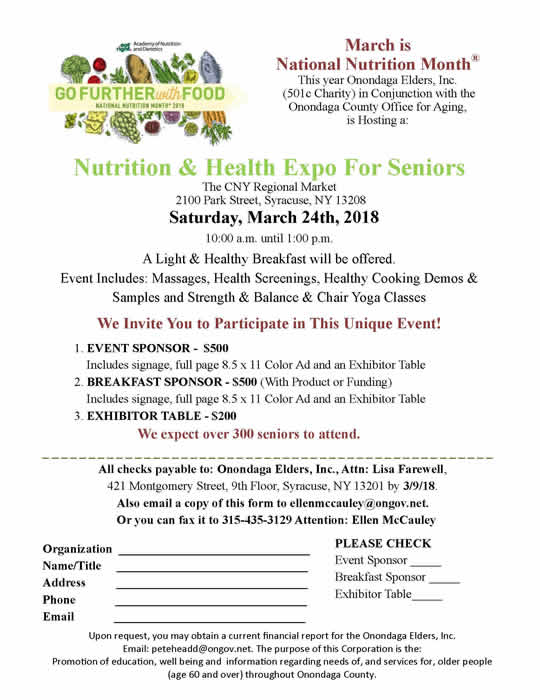 Nutrition Education Event 2017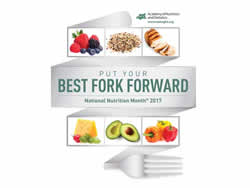 "Put Your Best Fork Forward" is the theme for National Nutrition Month 2017 which serves as a reminder that each one of us holds the tool to make healthier food choices.
Making small changes during National Nutrition Month® and over time, helps improve health now
and into the future.


To celebrate NNM 2017, the Onondaga County Office for Aging hosted its 3rd annual Nutrition
and Health Expo where seniors were able to participate in exercise classes, chat with Registered Dietitians, learn about health services in the community, receive health screenings and massages,
and enjoy a light breakfast.


Many attendees commented on how great these types of events are for the community and the Onondaga County Office for Aging Nutrition Staff couldn't agree more. It is so important to hold
events that increase awareness of resources available in the community and motivate participants to make positive health behavior changes. We are happy to host an event that helps people live happier healthier lives and we hope to see you at the next Nutrition and Health Expo for Seniors: March 2018!

Below are some photos and two short videos of the event.