The

SHARP

Project
The Senior Health

A

nd Resource Partnership Project
315-435-5600 Ext.5674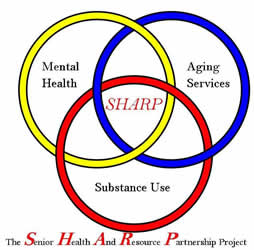 The SHARP Project is a local program designed to assist adults, 60 years of age and older, with counseling and community based services that promote physical and emotional well-being.

The SHARP Project Offers:
The goal of The SHARP Project is to provide appropriate supports and services that will enable older adults to remain safely in their homes and participate in family and community life. It is
sensitive to the needs of older adults and respects individual choice.
SHARP Trifold Flyer Large Print
The SHARP Project offers two ways to submit a REFERRAL


Click Here to Submit an On-Line Referral
Click Here to Print and Complete a Hard Copy SHARP Project Referral Form