The Onondaga County Office for Aging's Institute for Caregivers (I Care) supports and empowers current and future caregivers through education and training. This mission is met by providing caregivers with the information and skills they need to make wise decisions regarding their own needs and the ever-changing needs of those that they care for.
About the Institute

The Institute for Caregivers provides education and training broad enough to pertain to various illnesses and disabilities but comprehensive enough to provide many tools. The Institute is sponsored by Onondaga County Office for Aging and the Alzheimer's Association CNY Chapter.
The Fall 2019 Institute for Caregivers Classes are over - but you can click on the information below to give you an idea of what to expect in the Spring of 2020.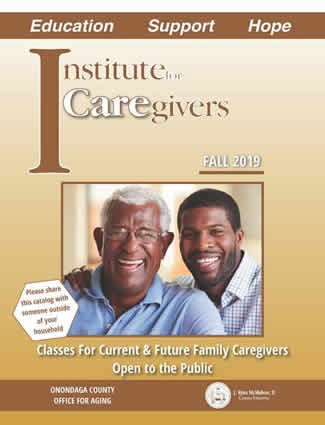 Registration is over for Fall 2019
1. Click Here to open a Class Schedule with a built in Registration Form.
2. Save the Registration Form to your computer before you start typing. Then type your information onto the appropriate lines, at the bottom of the form, and then save it again. You can email or print the form (see below.)
3. Send us the form in any of the ways below:
Email:  ellenmccauley@ongov.net  with "ICare" in the subject line and the form attached.
Fax:    315-435-3129
Mail:  ICare
Onondaga County Office for Aging
10th Floor Civic Center
421 Montgomery Street
Syracuse, NY 13202
Call: 315-435-2362 and use extension 4942.
Class Videos to Watch
The very nature of giving care to a loved one means that time is both precious and not available in large quantities. For that reason, some of our classes are recorded for convenient viewing and playback.
Click Here to access our library of class videos.
Important Information About Classes
All classes are equal opportunity programs. Instructors are subject to substitution based on availability. You will not receive written confirmation of your registration unless you request it.
We will make phone call reminders and/or emails prior to the class or classes for which you have registered if you have included your phone number and email address on your registration form.
If a course is cancelled or postponed due to bad weather, we will post information through the "Your News Now" emergency closing and cancellations system.
September Classes (Click on the Links for an Individual Class Flyer)
Living Healthy With a Chronic Condition Fall 2019
Organizing Downsizing and Decluttering Fall 2019
Aging Backwards I Care Fall 2019
October (Click on the Links for an Individual Class Flyer)
Zen and Caregiver Stress Fall 2019
Powerful Tools for Caregivers Fall 2019
Medicare Options and Changes for 2020 Fall 2019
Life Transitions and Loss Fall 2019
Healthy Living for Your Brain and Body Fall 2019
November Classes (Click on the Links for an Individual Class Flyer)
The Positive Approach to Care Fall 2019
Effective Communication Strategies Fall 2019