Older Americans Month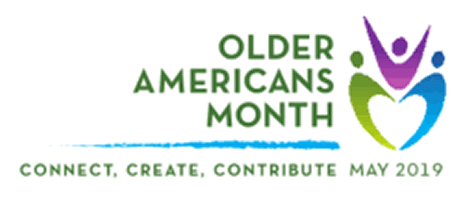 May is Older Americans Month and the Onondaga County Office for Aging is offering a unique opportunity for you to nominate three outstanding Onondaga County community members for:

Senior Citizen of the Year, Serving Seniors Honoree of the Year and the Flanders Memorial Caregiver of the Year.
Please find the fill-able (download, fill, save and email along with a photo of the nominee) Nomination Form (due by February 15, 2019) below. Or you can print, complete and mail it to Onondaga County Office for Aging, 421 Montgomery Street, 10th Floor, Syracuse, NY 13202, Attn: Cherry Lamb.
2019 Older Americans Month Call for Nominations Fillable

Save the date, when the winners will be honored, Thursday May 16, 2019 at our Celebration Luncheon for Onondaga County Seniors which will be held at Drumlins Country Club, 800 Nottingham Road, Syracuse, NY. Check-in 11:00, Program and Lunch starting promptly at Noon. Luncheon Registration Forms will be emailed/distributed in March.
If your organization would like to be a sponsor for this event, please contact 315-435-2362 Ext. 4942 to discuss.
SAVE THE DATE!!

Onondaga County Office for Aging, Nutrition Services is pleased to announce a 
Nutrition & Health Expo for Seniors to be held on Saturday, March 23rd, 2019
from 10:00 a.m. until Noon. at the CNY Regional Market "F" Shed. 

March is National Nutrition Month. 

The event includes: A Light and Healthy Breakfast, Massages, Community Resources,
Healthy Cooking Demos, Health Screenings and Exercises Classes. 


Last year over 400 Seniors attended this unique event.

 

It's not too early to let us know if your organization would like to be an

 

Event Sponsor or Sponsor the Continental Breakfast,
or host a Community Resource table. Please call 315-435-2362 x4942 to discuss sponsorship.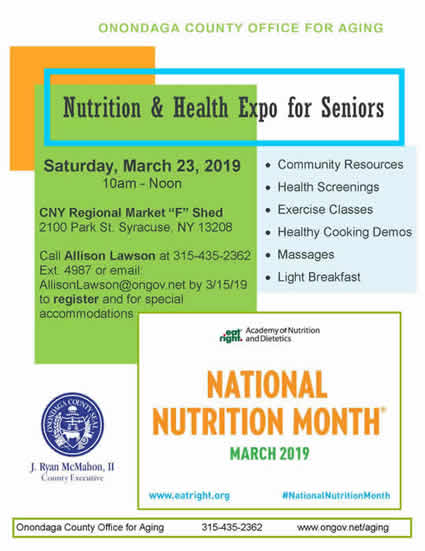 Our annual Public Hearing was held on October 18th at Bethany Baptist Church. Over 100 were in attendance. Scott Kapral, CFE, Vice President/Senior Investigator for BNY Mellon Corporate Security, Global Investigations Group gave a presentation on Senior Scams. Click here for a copy of Scott's presentation. You can also click here for a copy of our 2019 Office for Aging Service Plan.
Older Americans Month
The Office for Aging, in conjunction with Onondaga Elders, Inc. celebrated Older Americans Month with our 2018 Senior Celebration Luncheon. Close to 500 seniors and guests attended a meaningful award ceremony and lunch.